Everything Is Borrowed, Including Our Time Here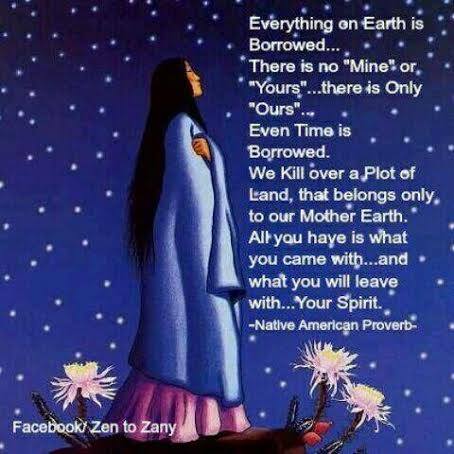 This proverb landed in my inbox like a profound gift today.   It put lots of things into perspective.  As I thought about what meaning I could take from a friend who's in critical condition, I realized that we have no guarantees, that it's our job every single day to be clear about what's important, to connect to our larger world, and to appreciate every precious second of our lives.
If we forget, we can remember at any time – and always.
"Everything on earth is borrowed… and belongs only to Mother Earth."
We literally owe everything to Mother Earth.  Everything.  Whether you believe God/Spirit/Divine created her or not doesn't even matter.  Mother Earth is still undeniably here, responsible for every single aspect of our existence.
How do we treat her?
Do we remember all the precious gifts she puts in our hands, our stomachs, our lungs, our surroundings?
I'm not asking about companies, countries, or governments.  I'm asking about you and me – here solely because of her good graces, for as long as we're meant to be here.
I forget.  A lot.  Hell, I complained my way through The Worst Winter Ever – about the snow that will provide much-needed water for the soil to grow food to eat, trees to clean my air, and flowers and other plants to enjoy.
I'm sorry about that, Earth Mama.  You have every right to give us the cold shoulder, given how we've been treating you.  (Thanks for spring, by the way.  I'm really happy to see green – and what you've done with the crocuses, daffodils, and birds' vibrant colors this season is really spectacular.)
Most of us are never going to be environmental crusaders.  It's not our journey.
We can all be Keepers of the Earth.
We can be more conscious.  We can develop a more meaningful relationship with the planet and everything she gives us.  We can treat Mother Earth as a mother – not in that take-her-for-granted way but in the "Wow, you literally made me and care for me so I can survive – thank you!" way.
We can open all our senses to take in what's around us, appreciating how her abundance and beauty sustain us every single second.
We can cultivate respect by reducing our footprint on her belly.
We can rejoice in her forgiveness (and hope, for our sake, that it continues, even when we don't deserve it).
When I truly engage with Mother Earth, I feel more settled.  Peaceful.  Joyful.  Appreciative.  Calm.  Happy.  I feel a connection to something much larger than myself.  I understand what's important.
Most of the time, however, I forget.  I'm working to change that.
"Even Time Is Borrowed"
My friend Paul was hit by a car on Wednesday and suffered severe brain trauma.
My beautiful sister-in-law Angie died a very painful death to stomach cancer one year ago last Saturday.
We are all on borrowed time.
Most of the time, I forget this, too.
Like many other precious things in my life, I routinely take time for granted – until someone I love is literally fighting for every second.
Maybe that's one of the gifts these challenging experiences offer: they remind us to treasure time.
How would we live differently if we actively appreciated our time every day?  Every second?
How would our choices differ?
In the moments when I do remember how precious time is, I cut the crap and focus on what matters.  I take better care of myself.  I show up better for others.  I appreciate this amazing world that is Mother Earth.
My goal is to remember more often (kinda like my flossing), since the present moment is all we have.  Future moments are never guaranteed, even though we may live as if they are.
Paul and his loved ones know this all too well right now.
"All you have is what you came in with and what you leave with: your Spirit."
Think about that for a second.  Our spirit is the only thing that endures.  Shouldn't we nurture it?
While that sounds lofty, it's really rather simple (at least to this simple mind).
We nurture our spirits every time we…
…act as Earth Keepers, cultivating deeper connection with and compassion for the land, water, plants, and animals (including humans)
…are fully present, truly living each moment.
Doing it is easy – it's remembering that's difficult.  We can help each other by fostering a culture where this becomes the norm.
Listening to the Messages
I believe that the Great Spirit / God gifts us with reminders of what's important when we need it.
I choose to see Paul's injury, the anniversary of Angie's death, and this wise proverb as medicine, reminders of what truly matters.  (For those who don't believe in a higher power, who view our time here on earth as all we have, such reminders are just as important, perhaps even more so.)
These experiences invite me to become more conscious of how very precious every single thing, person, moment, and experience is.
I hope I remember more often – and take good care of what I've borrowed.  After all, my spirit will remember forever…
Please keep Paul and his loved ones in your hearts, thoughts, and prayers.  Such collective energy creates a powerful healing force.  Thank you.