My Vision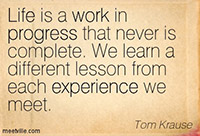 I am proud of being a lifelong work-in-progress. I wholeheartedly believe that life is much more rewarding and vital when we grow with each new experience, whether it's an opportunity or a challenge.
We can transform painful events into the fertilizer to grow something beautiful by releasing what needs to go, honoring our experiences, and integrating the learnings.
We embody our values and purpose when we source from our own inner wisdom.
We cultivate courage by going past our comfort zone and stepping into our own power.
In doing those things, we also contribute to a better world – for our families, our workplaces, and our larger communities.
How I Work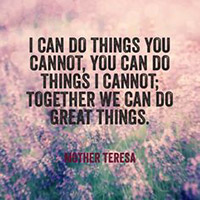 I work with people mainly in groups because I've seen firsthand the power of collective thinking, ideas, and experiences to accelerate growth. On top of that, the energy and engagement of group interaction is inspiring. For some programs, I partner with colleagues to offer an even more in-depth experience – and because it's incredibly rewarding to co-create with brilliant people!
These programs feature proven mindfulness, emotional intelligence, and wisdom tradition approaches to help people transform. They are engaging and experiential because you need practice and tools to continue your own growth long after the program ends. Program topics and target audiences are based on my interests and experiences, as well as where I see great potential to help people create life-enhancing transformation and alleviate suffering.
Programs
Program formats vary widely to offer many learning opportunities and are currently delivered only in-person. (I am beginning to explore offering online courses and welcome your input about learning preferences and interests.) Formats include weekly classes, day- and weekend-long workshops, and getaway retreats. Here is a sampling (click each title to expand):
Thrive Post-Divorce
Reclaim Your True Nature and Live from Wholeness
Step Into Greatness
Body Intelligence: Using Your Body Cues as a Guidance System
Daily Sanity: Mindfulness Tools to Reset Your Day
In addition to these programs, I offer individual coaching, most often with group participants who want to take that work even deeper. I also speak at conferences, workshops, and meetings.
Three Criteria for Transformational Growth
This work focuses on developing three key areas that form the basis of leading a meaningful and fulfilling life: sourcing from inner wisdom, showing up with presence and awareness, and taking conscious action with accountability.
Sourcing from Your Inner Wisdom: Discovering who you uniquely are and how you live from your values, strengths, and authentic wisdom, letting go of what doesn't serve you.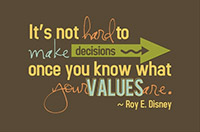 This deep self-awareness helps you source from your inner wisdom so your decisions and actions are aligned with your values. You maintain your integrity even in chaotic or challenging situations and feel proud of your actions. You identify the limiting beliefs and other barriers that keep you stuck and unproductive.
When you source from your inner wisdom, you understand your own needs and honor them with compassion and care. You consider the perspectives of others, knowing that yours is not the only one. You focus on what is possible and how to create that future, starting now, by being curious, open, and flexible.
Showing up with Presence and Awareness: Approaching situations with intention and maintaining awareness of what's happening for you and others in the present moment.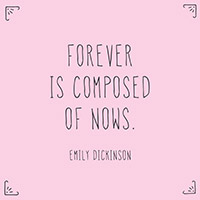 Conscious intention establishes a clear roadmap and helps ensure that you show up ready to engage more thoughtfully in any situation. When you're present and aware, you understand what's happening so you're able to respond effectively and adapt to changing circumstances as they arise. As you develop this ability, each moment becomes richer. You enjoy life more fully. Relationships are deeper and more genuine.
Research shows that people are only paying attention about half the time, and since you can't do anything if you're not attending to it, increasing awareness is probably the most singularly powerful skill you can develop for doing literally everything more effectively. As the saying goes, 80% of success is showing up – and many people fail to show up for their own lives much of the time. If you want to lead a rich life, you have to be present for it.
Taking Conscious Action with Accountability: Acting in ways that are aligned with your values and taking 100% responsibility for your role in any situation.
Conscious actions move any situation forward. You deliberately take steps to create what you want. You assume responsibility so that you have the power to be part of the solutions to problems, regardless of who created them.
Conscious action requires a learning and growth mindset. Rather than having a victim mentality, you take charge of what IS in your control and do your best so that you're proud of your efforts, regardless of the outcome. You're curious and open, focused on how you can learn from your experiences so that they enrich your life and lead to further growth.
Moving Forward
If you would like more information about these programs or about speaking opportunities, please email me. I look forward to starting the conversation!
Photo credits:
Life is a work in progress – meetville.com
Together we can do great things – pinterest.com
We must be willing to let go – notsalmon.com
Remember who you really are – weheartit.com
Become who you are – sparklingandslimming.wordpress.com
Trust yourself – mindwisehypnosis.com
Inhale, exhale, repeat – lawhimsy.com
It's not hard to make decisions – 1yearofsingle.tumblr.com
Forever is composed of nows – pinterest.com
What you do speaks so loudly – designglow.com