In This Section, You'll Find:
Meeting Success and Failure
Benefits of Effective Facilitation
Working with Me
My Background
My Approach
How to Hire Me
Testimonials
Meeting Success and Failure
When you hear the words 'offsite,' 'brainstorming,' 'ideation session,' 'conference,' 'workshop,' or 'team meeting,' do you immediately grab any excuse get out of it?
If so, you're certainly not alone. Workshops seem to go poorly more often than they go well. We ask people to step away from overwhelming workloads to attend – and then give them a frustrating, unproductive experience. It's no wonder people turn off at the mere mention of an offsite.
When the right people come together ready, willing, and prepared to work together toward a common goal, you're halfway to meeting success.
The other half requires the right leadership.
Although great facilitators can make this look easy, it's a hugely complex endeavor to prepare and to lead a group through creative problem solving while attending to interpersonal dynamics, energy levels, and feasibility of solutions and ideas.
Benefits of Effective Facilitation
When a meeting or workshop has an effective facilitator, it enjoys many advantages over one that doesn't. When you work with me, here are some benefits clients and participants have mentioned:
Overall
An objective point of view
Ability to see the big picture and key themes
Clear objectives
Recognition of issues and opportunities
Identification of overarching themes (or the need for them)
Research and information gathering
Sensitivity to interpersonal dynamics and their effects
Resolution of complex problems
Sustained group focus, energy and engagement
A positive, memorable experience
Group Process
A constructive, safe environment for open, genuine communication
Leveraging participant strengths, skills and expertise
Enhanced collaboration
Improved team effectiveness
Clear strategic vision and planning
Conflict resolution
Shared agreements and action steps
Ideation and Creative Problem Solving
The right inspiration in the room
Stimulation of breakthrough thinking
Valuable insight and idea generation
Ideas built and refined
Training
Clear presentation of material
Participant engagement
Positive, fun learning environment
Retention and integration of material
Working with Me
With over 20 years leading groups of all kinds, I bring expertise, energy, flexibility, and effectiveness to the facilitation process.
I've successfully worked with diverse groups to overcome challenges and create new purpose, vision, and opportunities.
I look forward to collaborating with you throughout the process from pre-meeting prep through implementation to ensure your session achieves its goals and generates value for all stakeholders.
My Background
While I've facilitated workshops and seminars as both a psychologist and a life coach, most of my formal experience came during my advertising days. I led global team meetings and agency trainings. I also conducted workshops on topics such as the following:
Brand Idea
Brand Purpose
Brand Activation
Consumer Insights
New Product Innovation
Product and Messaging Concepts
Creative Ideation
Team Building
And across the globe: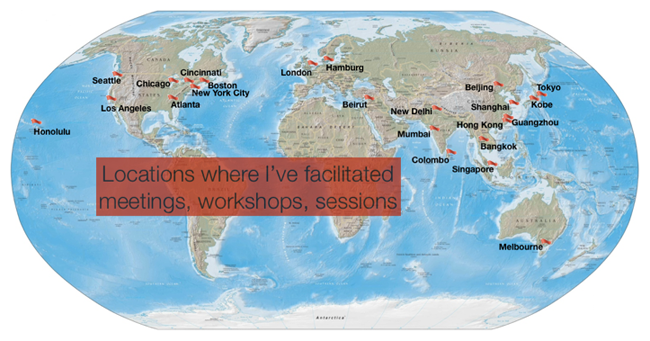 With amazing brands: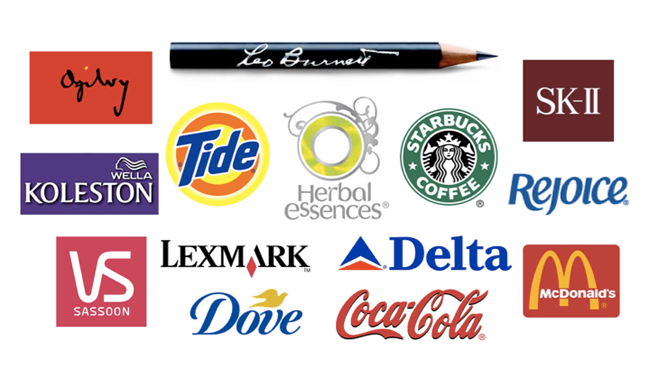 My Approach
I work with you to ensure the groundwork is properly prepared prior to the session and plan the day(s) to meet the objectives on schedule. Each workshop is individually tailored to the needs and dynamics of the group, with follow-up as appropriate.
Following the 'work hard, play hard' mantra, I believe that a session can be both successful and fun. It doesn't matter how big the challenge is – when people are respected and their participation is valued, they contribute more and often enjoy being part of the process.
I thrive on getting participants involved and working together. In this atmosphere, creativity more readily flows, and the group generates better solutions. When a well-compensated group of physicians wasn't contributing in a session, for example, I appealed to their competitive nature by offering participation prizes (basic office supplies – it's all I had). They became so animated and helpful that the clients let me give away the print off the wall as a grand prize thank you for the quality insights generated. Mission accomplished.
I'm thrilled when I have to kick the participants out of the room because they don't want to stop the discussion – and when I get emails days later telling me about some idea they had in the shower.
How to Hire Me
If you have an upcoming session, event, conference, workshop, or training for your organization or program, email me. I'd love to discuss how we could work together to make it highly successful, engaging, and unforgettable.
Also, if you're interested in sessions or workshops as part of a personal development program, make sure to visit to my COACHING PAGE for additional information.
Testimonials
Here's what a few clients and participants had to say:
Mary Beth is a strong leader who can easily handle a group – even one as challenging as ours. She's a quick study and readily identified the themes so we could align and keep working. It was a great session." (P&G General Manager)
MB made this so fun! We came up with some great insights and concepts to test, but it happened easily, with a good flow to the day." (Ogilvy Colleague)
Most of these sessions end up being a boring waste of time where we go through a robotic, uninspiring process and come up with the same stuff we did last time. Today was different. Mary Beth kept us going and had the right inspiration. We focused on really cracking it and got somewhere new. And we did it in one day instead of three!" (Leo Burnett Colleague)
Our team has been struggling with this for quite some time. Mary Beth was able to get us all working together, and we were finally able to see what the real issues were and work through ways to move the project forward. Finally!" (McDonald's Brand Director)